Florida poultry rescue and game bird sanctuary. We have taken in, rescued and re-homed, chickens, quail, pheasant and turkeys-all free of charge. Obviously our focus is mostly on turkeys and any bird rescues are strictly limited by our available space at any given time.
Any new bird or birds have to be placed in quarantine for the safety of our flock and future homes.


As mentioned, we always have l

ots of turkeys- For Pet Homes only!

This is  "Christmas Boy" a White Holland Turkey. His owner could no longer keep him. What a gentle Tom!
A few of the 2018 rescues: "Rescue success!"

---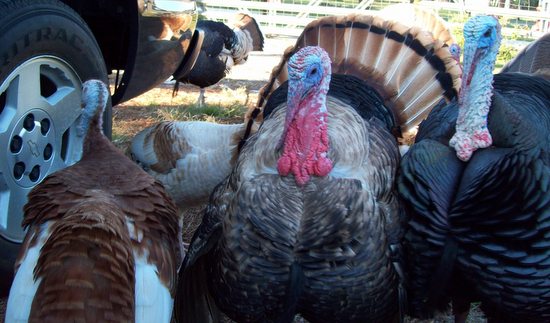 We are located a few miles west of the Indian River, just southwest of Kennedy Space Center in Canaveral Groves, Florida. Here in central Florida we enjoy a longer hatching season than most of the United States.
One hour old.....turkey poults for pet homes

---
Do you need the perfect gift?
For pet lovers around the globe, "It's a Matter of Luck" is a collection of heart warming stories of horse rescues from the slaughterhouse. 
Available on Amazon: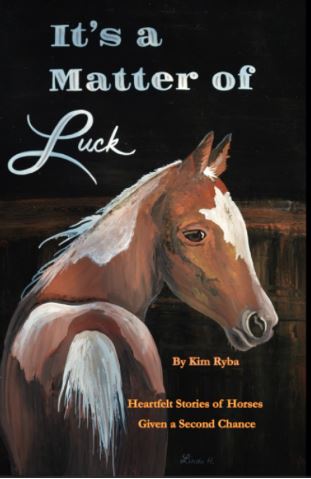 It's a Matter of Luck: Inspirational, Heartfelt Stories of Horses Given a Second Chance.
by Kim Ryba & Lina T. Lindgren
Warning: This book may cause your eyes to water -in a good way. (speaking from experience after reading it)
Please give Kim and Lina a heartfelt review on Amazon!
---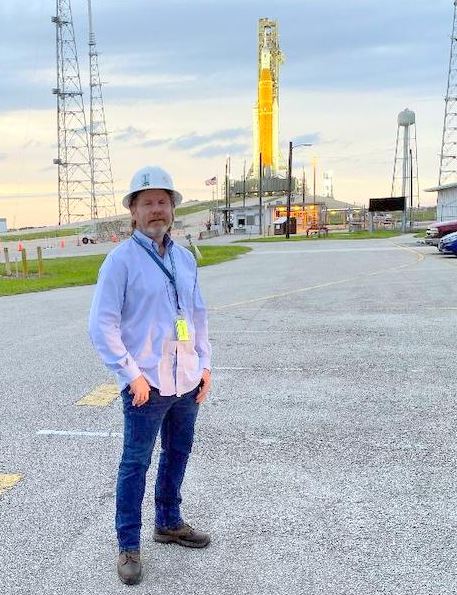 Author Bruce Ryba at Kennedy Space Center Launch Pad 39B & Artemis 1. "We are going to the Moon!"
My Facebook page Pet Turkeys You can always check in and say hello!

For the video versions of information, please check out my YouTube Channel (Turkeys, Flintknapping, dive stories etc.)
---
---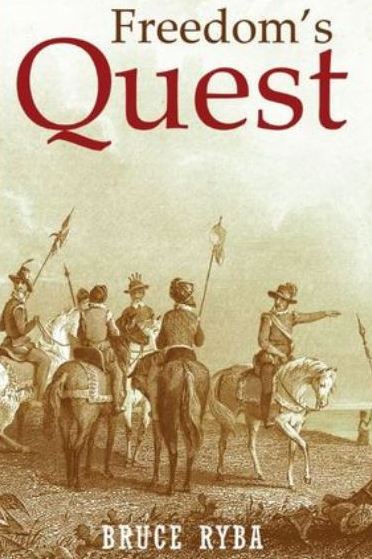 Book One of Florida History:
Freedoms Quest Struggle for the Northern Frontier and lost tales of old Florida
Fiction & language warning.
Available on Amazon

The consequences of a healthy and happy flock and long Florida hatching season are …babies, lots of babies….. For the past 16 years we have raised and given away nearly 200 birds each season as well as hundreds of fertile eggs.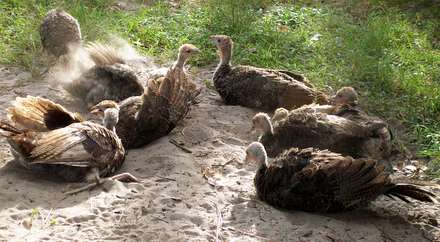 Eastern wild crossed with Bourbon Red Turkeys enjoying their dust bath


If you so desire, you can get on the waiting list for any of the following: eggs, poults (turkey chicks), juvenile birds or rescued birds.
All Free of charge with conditions of course!

The conditions may vary on a case by case basis; however the conditions are approximately as follows:

**The turkeys go to pet homes only

Not to be used at Thanksgiving (eaten)

They turkeys will not be released to the wild (to be eaten by a bobcat)

The birds will be provided healthy living space (not caged). 
Have to say those are fairly reasonable conditions and.....
We maintain the absolute right not to give away any turkey or chicken that we believe will not be placed in an adequate & safe pet home.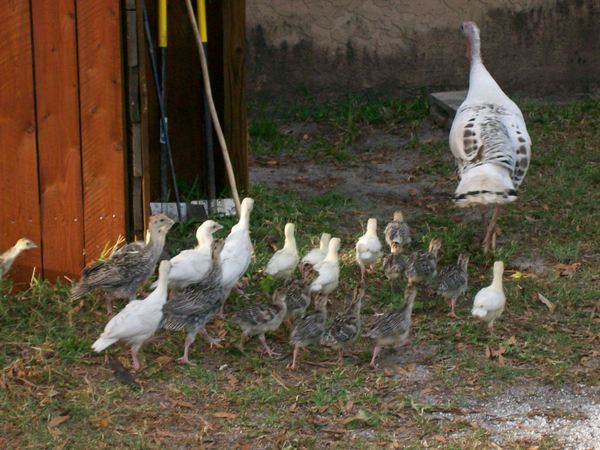 In the past we have been saddened to see our pet turkeys that we gave away in good faith, placed on Craig's List for sale in less than 24 hours. Also, something about people only wanting turkeys in mid-November sends little warning flags up. Normally no birds are placed to homes around "pilgrim time".
---
The eggs and poults may be from of any of the variety of heritage & eastern wild turkey hens & most likely a cross between several types. The dominant color pattern will change from year to year depending on the alpha status of the reigning male.
When possible, we are accommodating to color/variety requests but also make an attempt to mix up the genetically related birds to reduce mating within the family tree.
We cannot sex the birds until they are fairly large.
As mentioned, the birds and eggs are free, but we welcome any donations of feed!
However before considering adding turkeys to your backyard/barnyard-please review the section on requirements and "Reasons not to have turkeys"
Please remember Heritage Turkeys can Fly

The unexpected humbling experience of raising a Handicapped Turkey

---
---
Disclaimer on the following pages: 
1. Not sure why the pages turned black & the letters white!  Will attempt to correct....but..Who knows?

---
Florida Osceola wild turkey   I do not have any.

Many people over the years have requested "Florida Osceola wild turkeys"
Sorry, even though we live in Florida and enjoy watching the Florida Osceola wild turkey flocks, we do not own any Osceola turkeys, as there are laws and permit requirements in Florida protecting these magnificent wild birds.
Note: I do have Eastern Wild and Rio Grande Wild turkeys as you can purchase them from hatcheries.

---