Interaction of dogs, turkeys & Chickens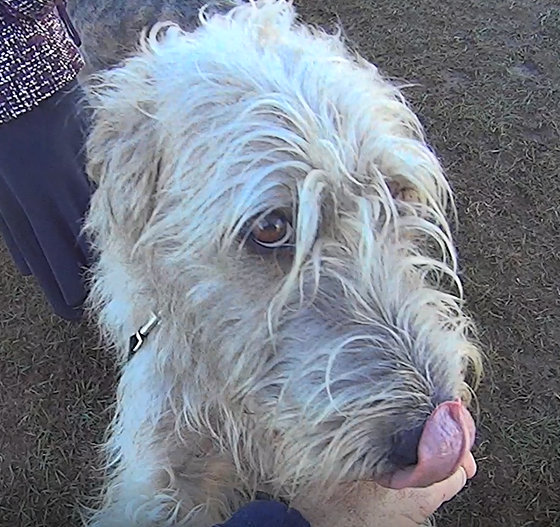 What me?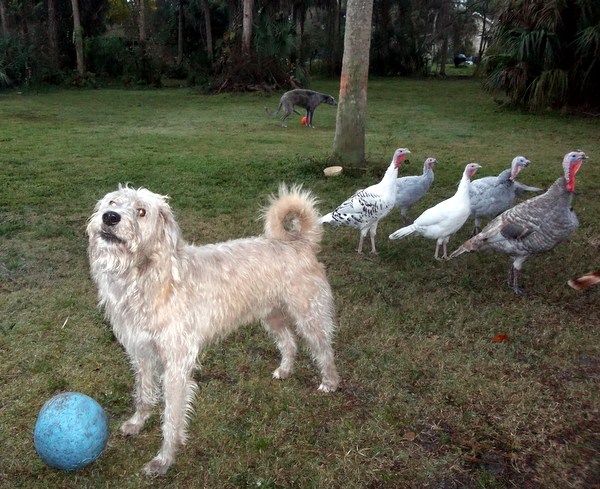 Rockman, (Rocky) guardian of the flock
Knows all the turkey alarm calls and comes running to help his birds

Video Clip: Rescue dog Rocky, barking at a hawk when his turkeys called the raptor alarm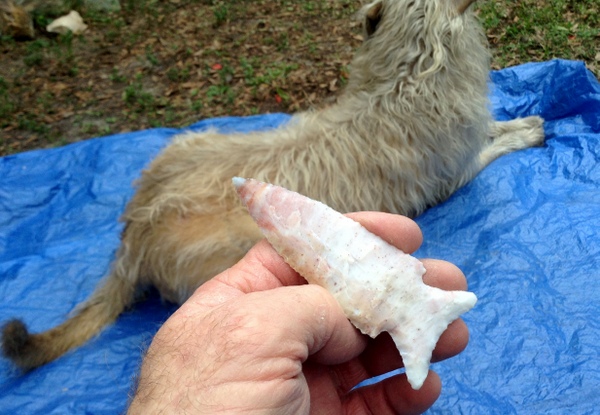 Rocky enjoying the Flint knapping tarp while watching out for threats to his flock of turkeys

---

---
Bowling with turkeys- Rocky on YouTube


The interaction of our rescue dog and Irish Wolfhounds with the birds. (100% positive) Actually, almost 100%, the puppy will chase the turkeys on a whim--however the turkeys often reverse the role and chase the dogs. (hens only do the chasing, because the Toms just stand around and look pretty)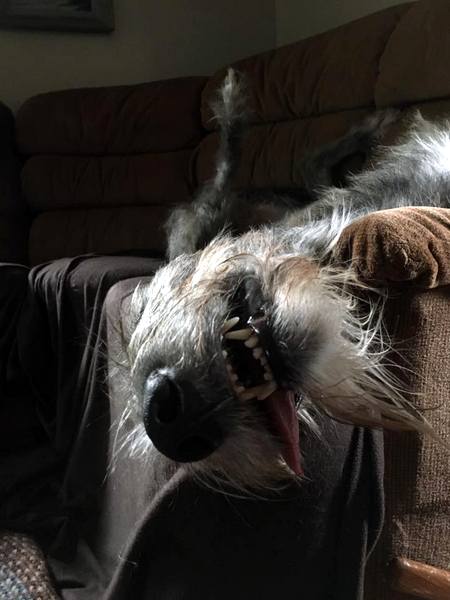 One of our guard dogs watching the turkeys......
This is actually the normal position of the Irish Wolfhound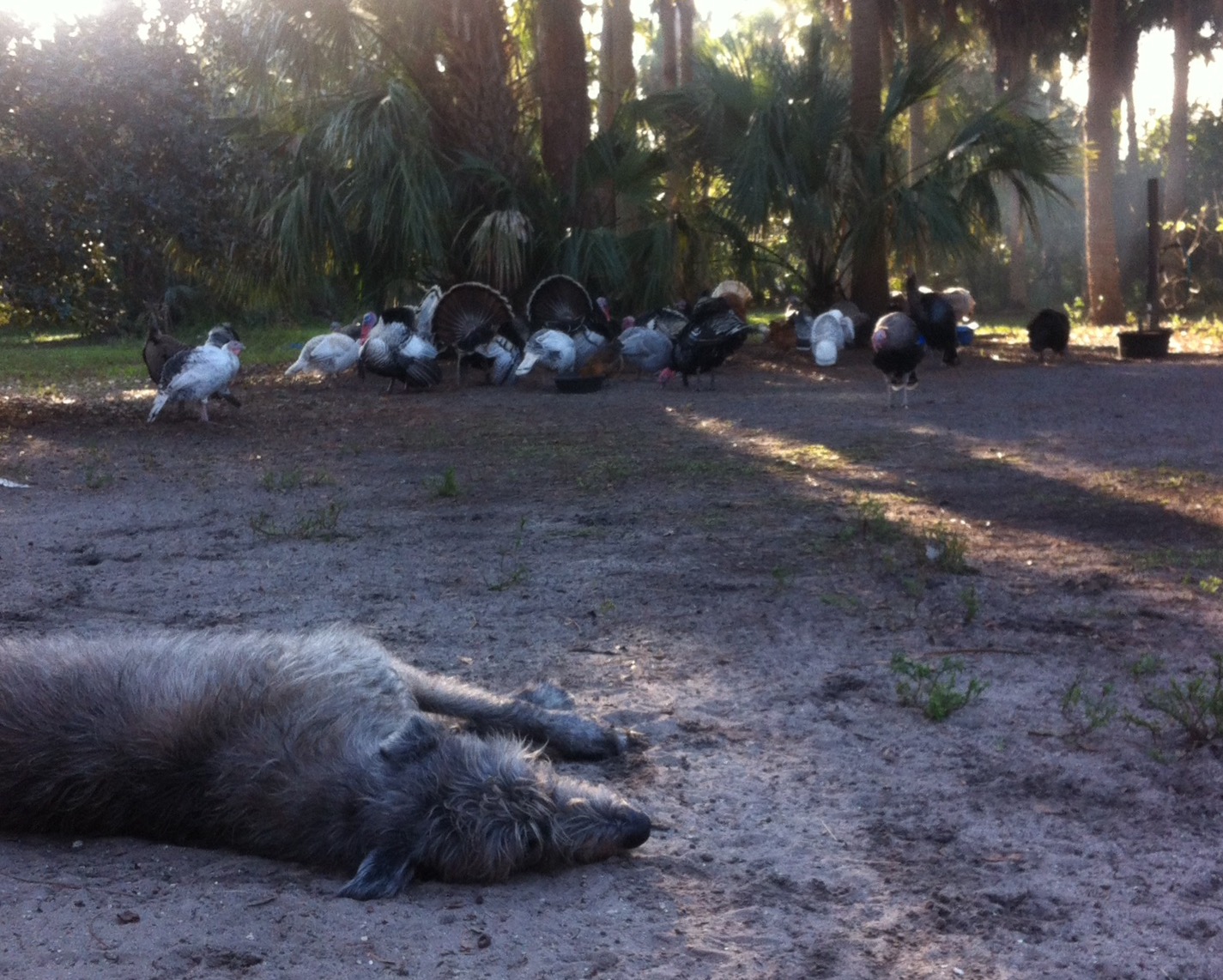 Irish Wolfhounds mostly only have two settings, "sleep" or "Run"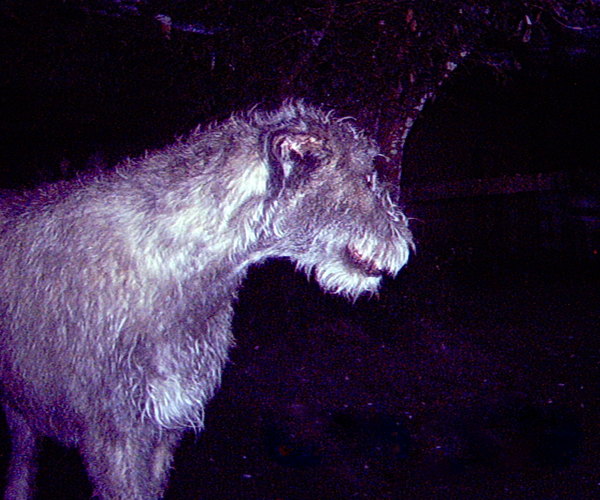 Ember

However the wolfhound is a formidable guard when needed.
Speed and power is their breeding...

Ember on Night Patrol when the turkeys alarmed on their roost.

---

When the turkeys alarm at night and the dogs and I come running out of the house, the first thing I do is scan the yard and tree for threats. Then I watch the dog's behavior.
A ground predator: the dogs will be tracking the yard for fox, coyote, raccoon or bobcat.
If the dogs are not tracking any scent--then I know I am dealing with an owl.

---

---
Then there is the wolfhound puppy.......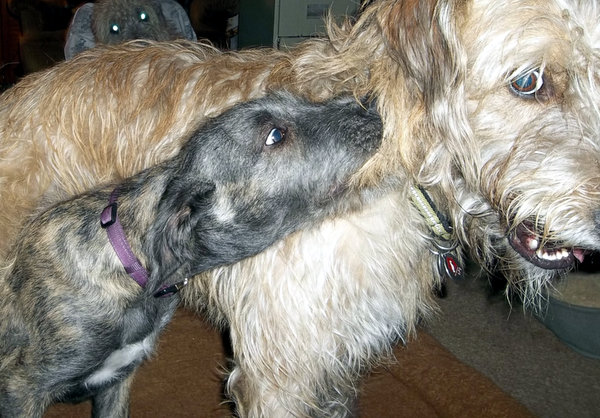 Wolfhound puppy chewing on the Rockman. You can tell by his eyes: "Help Me!"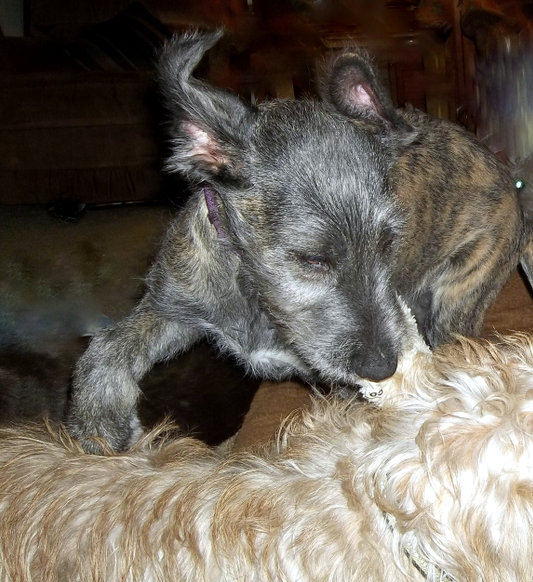 Wolfhound pup. Having a blast with Rocky

Video Clip: A young Ember and Rocky at play. Max the old rescue Irish Wolfhound sits by enjoying the Florida winter.

---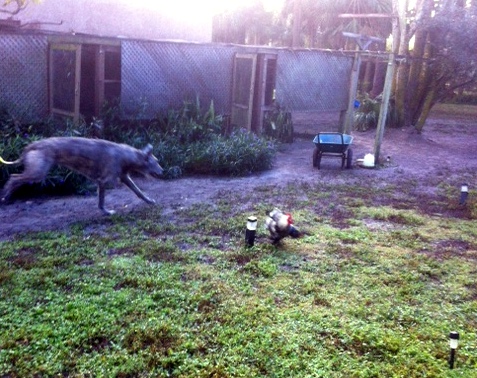 Wait, that's not the puppy....Ember after a rooster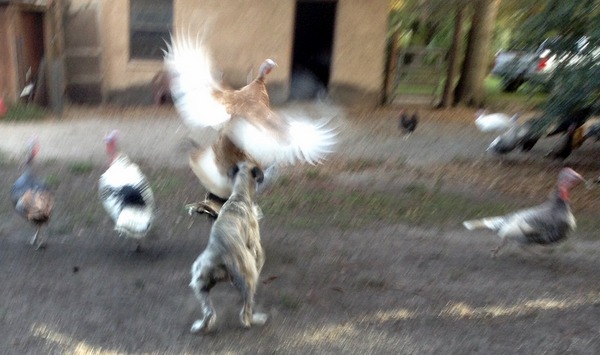 Neila, the wolfhound puppy at 100 pounds

New puppy wolfhound - learning that she can make the birds dance.
No injuries of course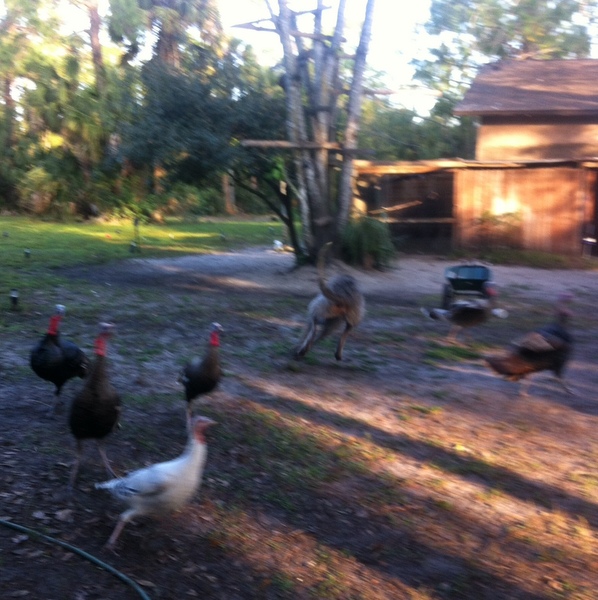 ---
Back at work.....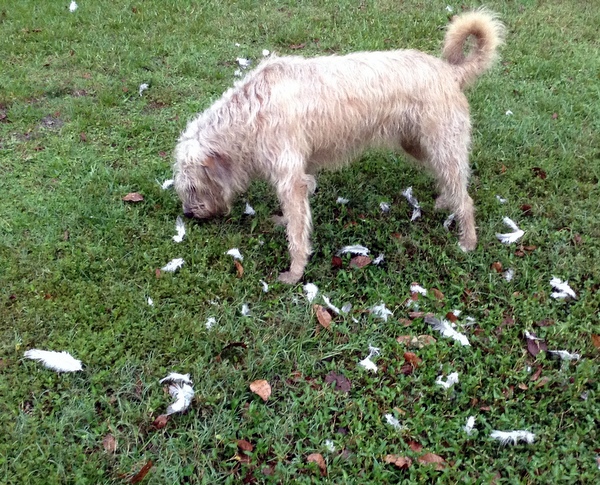 Rocky and I inspecting a murder scene. Bobcat or Great Horned Owl?

---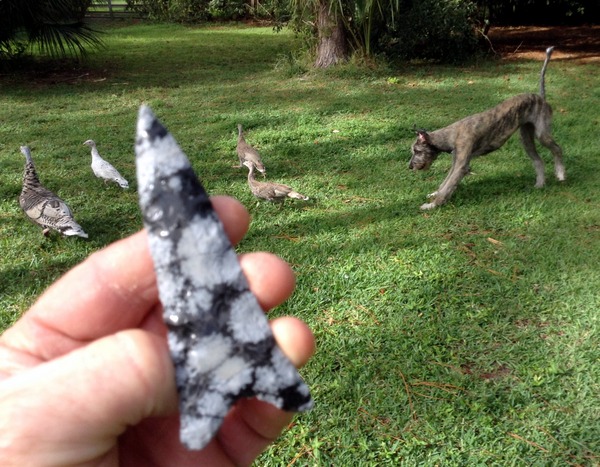 Was taking a photo of a snowflake obsidian arrowhead I made, when......
Neila decided to pluck turkeys.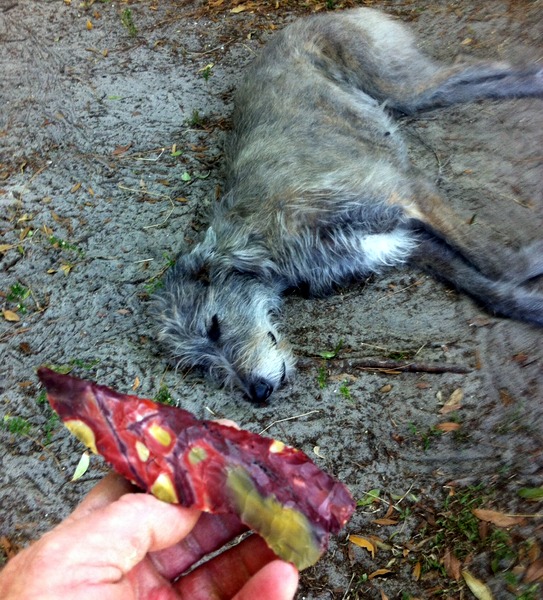 Meanwhile, Ember is back to her guarding duties...

---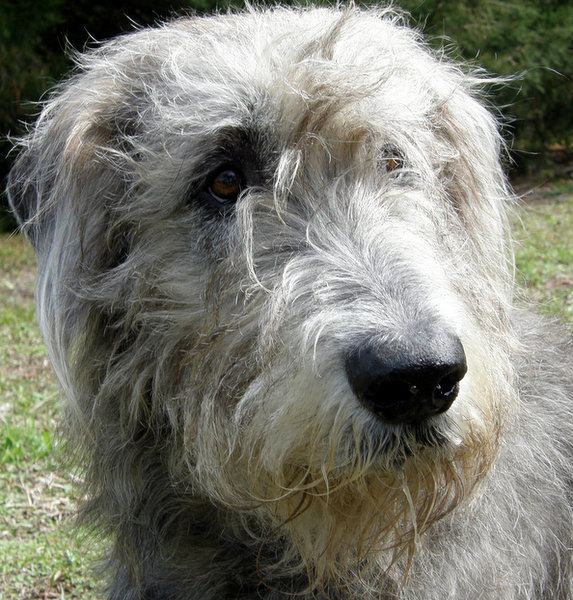 Irish Wolfhound "Ciara" who has passed on.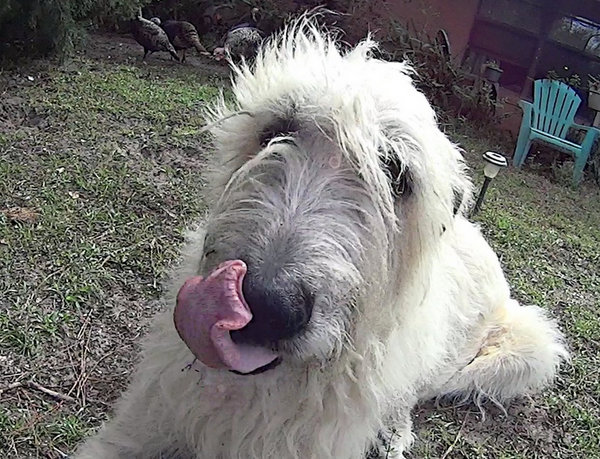 Rescue Irish Wolfhound "Max" who has passed on.

Max at a St. Patrick's Day Parade. He was a gentle soul.

---
---

---
Basically the dogs are priceless companions, guards and family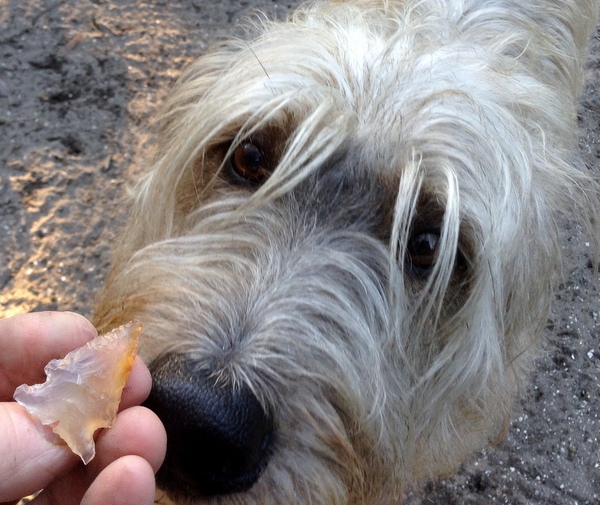 Rockman (Rocky) is a rescue dog from Pets by Judy
On his first day at his new home, Rocky promptly snatched up the little hateful bantam rescue rooster. Obviously Rocky had never seen a chicken or turkey. -----Yes there was some screaming and he spit out the rooster to become the birds faithful guardian.

---
Interaction with the neighbors dogs and turkeys have been mixed: from complete ignoring of the birds- to a golden retriever completely plucking a poor hen (she recovered)
Another neighbor had a border collie that only wished to herd the turkeys.  Obviously we have been lucky and the heritage turkeys are good fliers so there are near misses with dogs that we will never know about...

---
---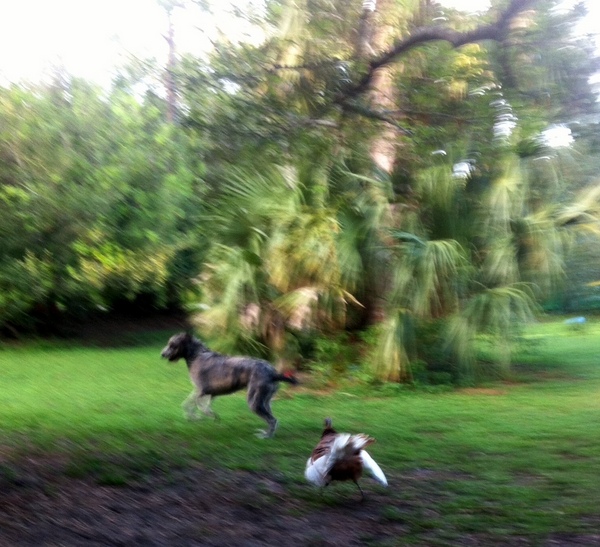 This was a instance where "Redbird" chased the puppy and the dog loved the 'play' so much that she turned around and chased the turkey back----unexpected by the hen--who had to flee in confusion.

---

---
Contact us at: Clovis636@aol.com
Return Home from Interaction of Turkeys and Dogs page


Do you need the perfect gift?
For pet lovers around the globe, "It's a Matter of Luck" is a collection of heart warming stories of horse rescues from the slaughterhouse. 
Available on Amazon: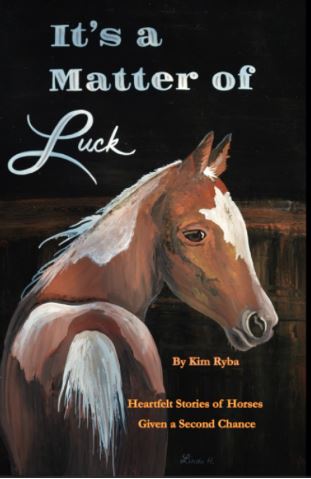 It's a Matter of Luck: Inspirational, Heartfelt Stories of Horses Given a Second Chance.
by Kim Ryba & Lina T. Lindgren
Warning: This book may cause your eyes to water -in a good way. (speaking from experience after reading it)
Please give Kim and Lina a heartfelt review on Amazon!
---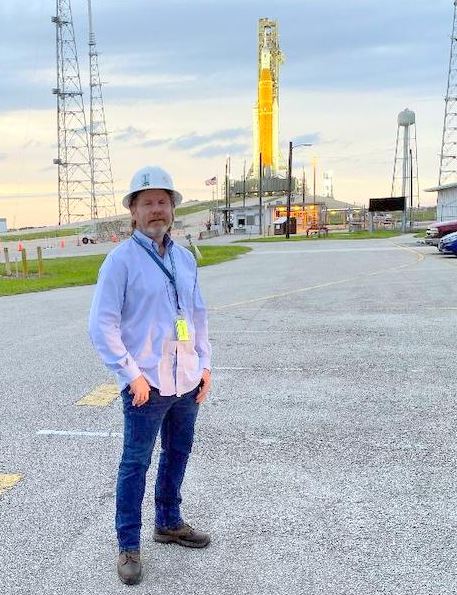 Author Bruce Ryba at Kennedy Space Center Launch Pad 39B & Artemis 1. "We are going to the Moon!"
My Facebook page Pet Turkeys You can always check in and say hello!

For the video versions of information, please check out my YouTube Channel (Turkeys, Flintknapping, dive stories etc.)
---
---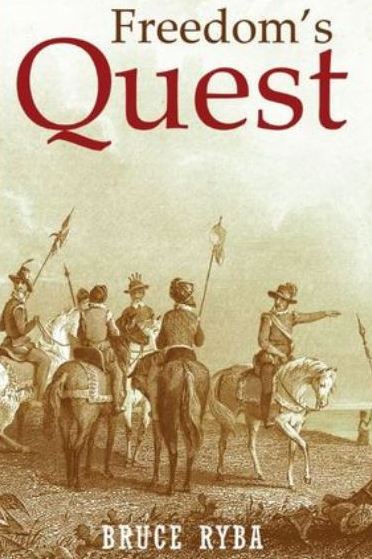 Book One of Florida History:
Freedoms Quest Struggle for the Northern Frontier and lost tales of old Florida
Fiction & language warning.
Available on Amazon