Kayaking Kennedy Space Center Florida



Kayakingksc.com

 (navigates away from turkey pages)





Hello, so I pulled this page off of the Nav bar because during the pandemic I was forced onto 60 hour work weeks. See how it goes after the moon shot (Artemis 1) --I was hoping to take some people out for the unmanned moon launch (now set for Aug 2032) But have to review my work load at KSC. Things are getting hot!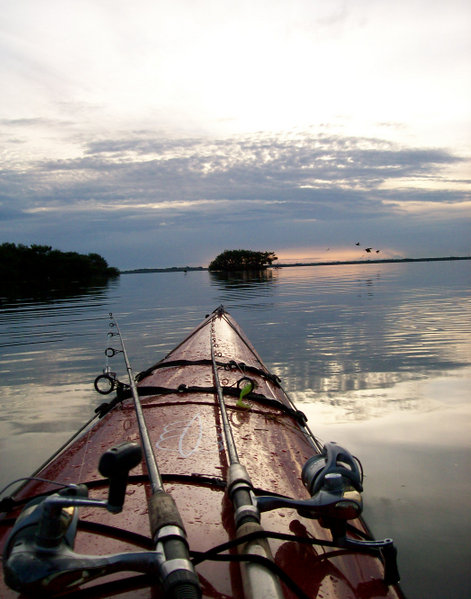 Blissful kayak dawn on the "No Motor Zone" south KSC boundary

When away from turkeys, we are kayaking the Indian & Banana Rivers, Mosquito Lagoon and the rivers of central Florida.

Banana River pleasure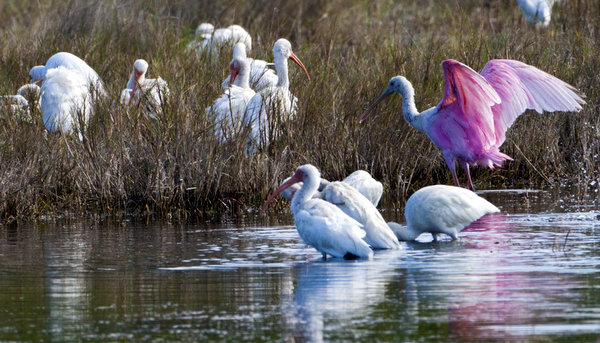 There is a selfish reason for my love of kayaking Kennedy Space Center.
I hate crowds.
And can hardly think of anywhere else that can provide the solitude and beauty of paddling the "No Motor Zone" of KSC or the shallow waters of Mosquito Lagoon.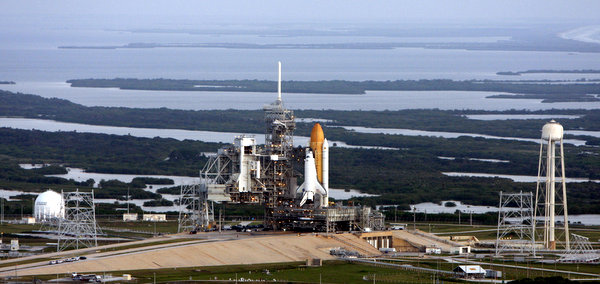 Looking towards the north KSC boundary. Photo credit NASA

Well the Space Shuttle is history, but looking North from Launch Pad B is the Mosquito Lagoon, excellent kayaking open to the public.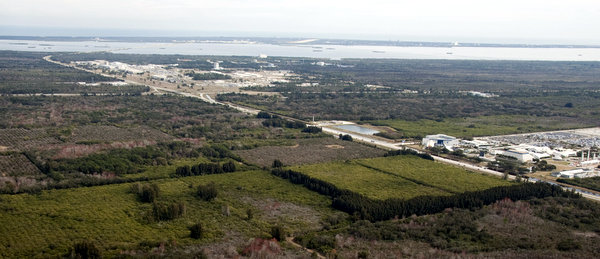 Aerial view of Banana River that marks the South Boundary of KSC. Photo credit NASA

Nature Meets Technology at Kennedy Space Center
Kennedy Space Center Visitor Complex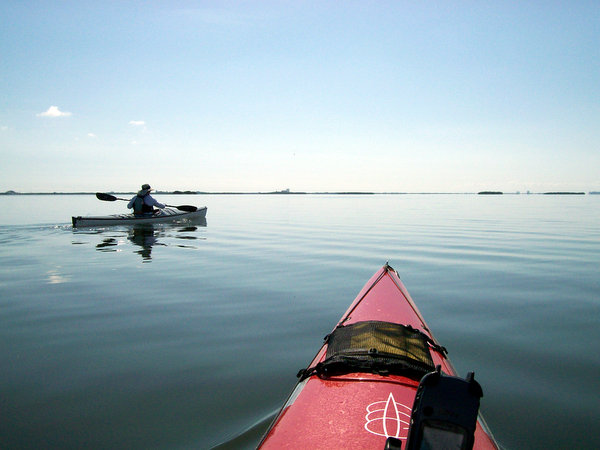 No motor zone silence of the Banana River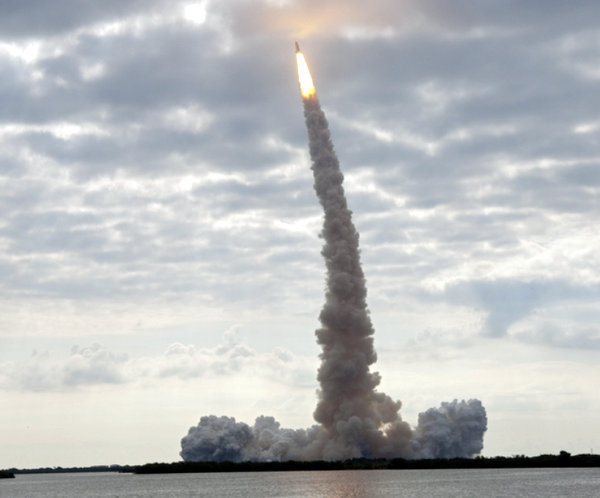 Photo credit NASA

And besides the world class fishing, the bird watching, no crowds, the space center waters have additional interests nearly every month. (why it's called "the space center")
Information about Kennedy Space Center and Merritt Island Wildlife Area is found on my Osceola turkey page
Native Americans of Kennedy Space Center (navigates to my other Kayaking page)

---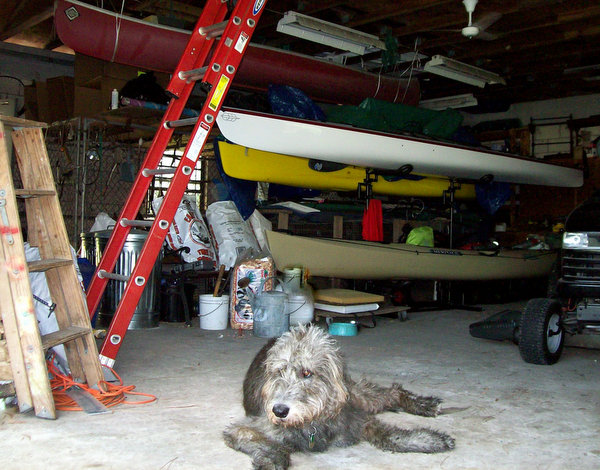 Boats begging to be used.....

Little explanation

I have been fishing the KSC waters for over thirty years and then became hooked on expedition kayaking and specifically the Missouri River race the MR340. (3 times completed this 340 mile race)

Naturally euphoric high of the Banana River No Motor Zone

Our toys

Two QCC 700, 18' expedition kayaks   (I get one QCC 700)
One QCC 500, 16' expedition kayaks (for larger folks)
Two Epic 18' expedition kayaks
Two plastic Heritage Redfish 14' kayaks with rudders (These are stable kayaks you can stand up in if you wanted to.) (Yes they are slower boats)
One flat back canoe

Ok, yes I know I should sell the extra boats.....some day.....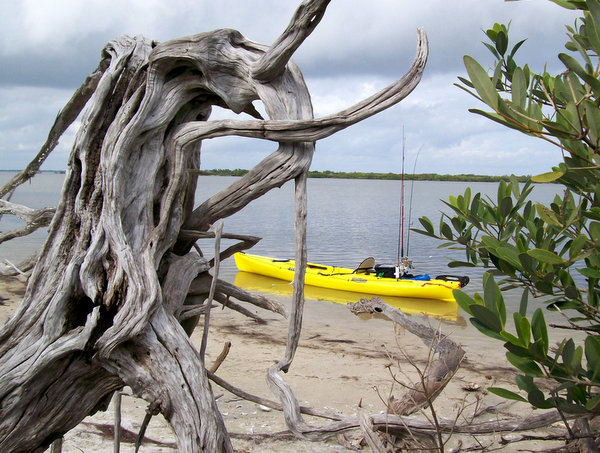 Mosquito Lagoon, North KSC Boundary

---
---
---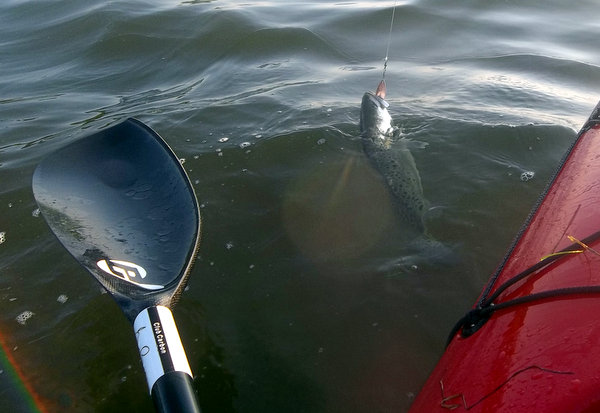 ---
---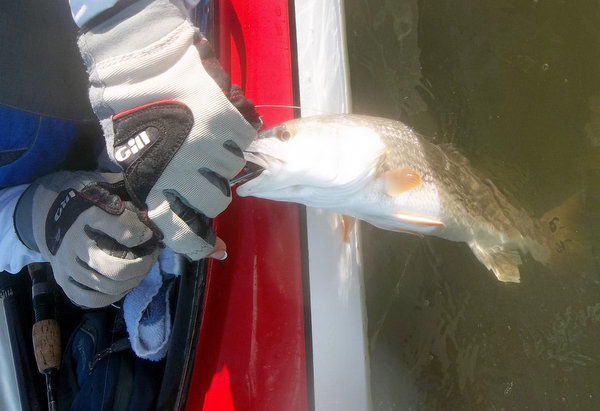 ---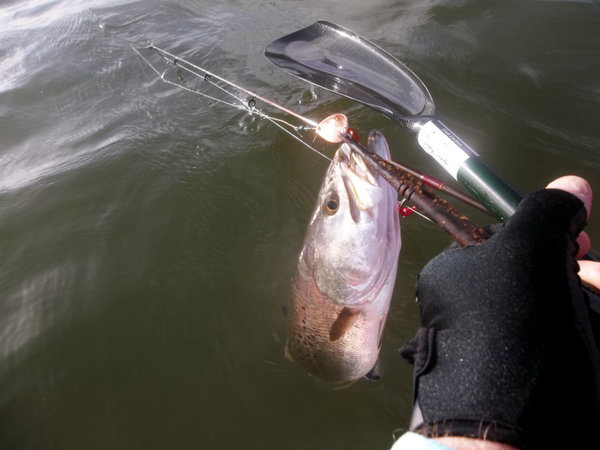 ---
An odd fact about the unique waters of these three big rivers of the space center: Most paddling areas are less than waist high in depth (actually knee high for most of the open water)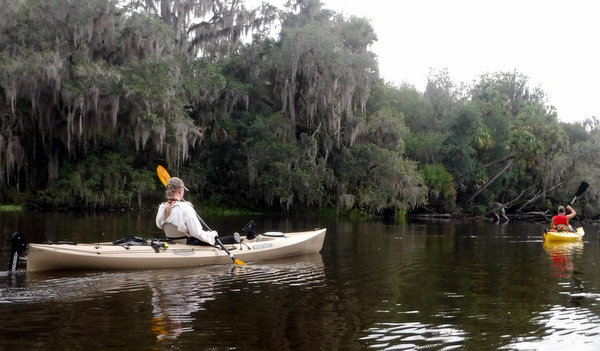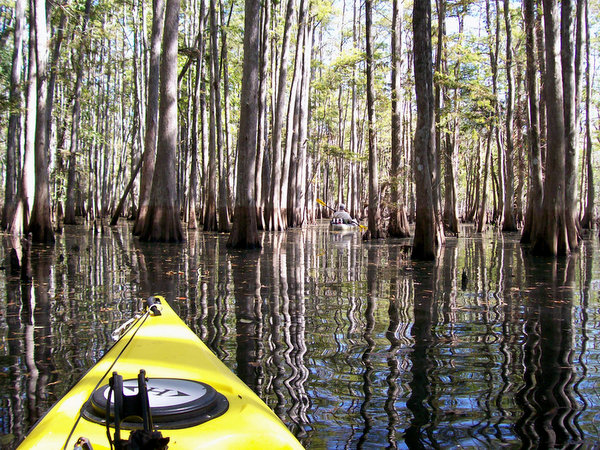 Back up plans for rough weather days (looking for the Ivory-Billed Woodpecker) (Taylor Creek)

---
---
I love to take the expedition kayaks out in the roughest weather mother nature can throw at the space coast. These craft are amazing and storms are a blast. If you so wish, we can do a non fishing, non birding "storm day"----I will be out there.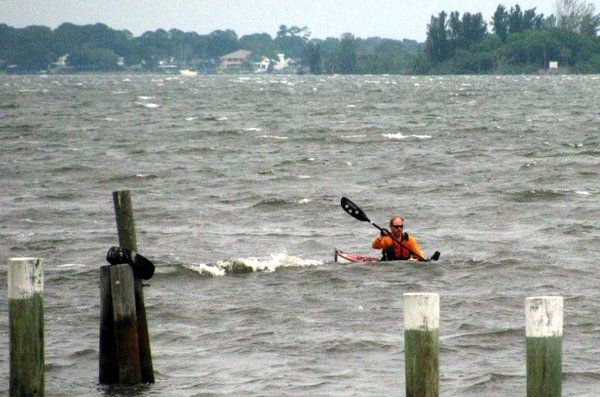 Enjoying a rough ride on the Indian River as Hurricane Sandy raged past the Brevard Coast---was sort of scary

---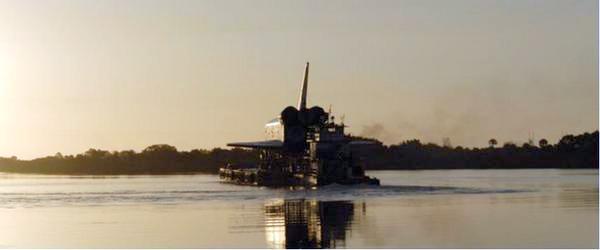 Saw this one early morning- kayaking on the 'space coast'
A space shuttle on a barge being taken away for retirement.

---
---
---
About the local kayak touring businesses of the Space Coast: I have never heard a bad thing about them and strongly encourage anyone to try their events. Particularly if have never done a bioluminescence night kayak trip.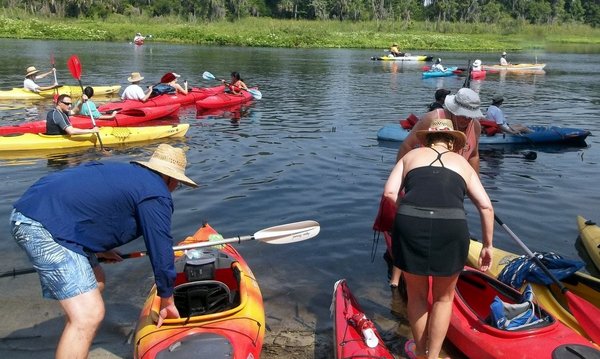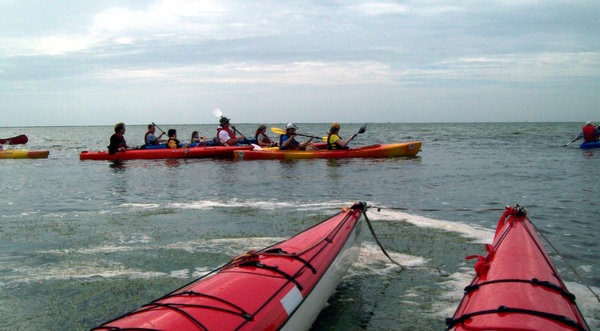 Just not my thing.....
"Where did the birds go?" I asked as we were interrupted by noisy paddling primates.

---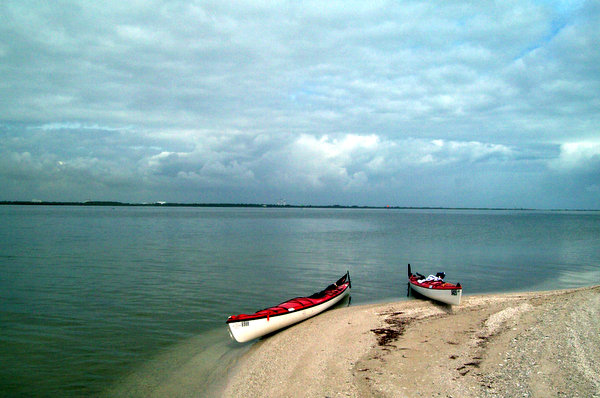 This however.......

---
---
A few final comments about safety when kayaking on the Space Coast, bird watching or fishing: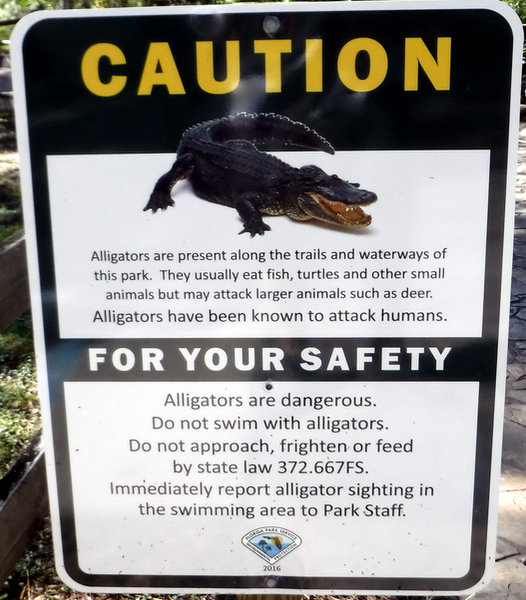 Kennedy Space Center has old grandfather alligators. Not a problem since they are not fed by humans, however they are scary big.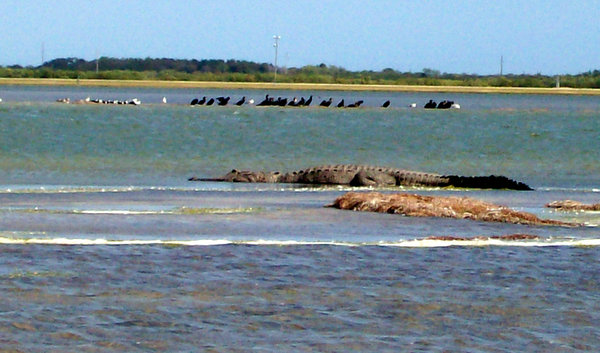 American Alligator, not longer than my 18' kayak, so no problem.

---
---
The unpredictable weather, wind and waves......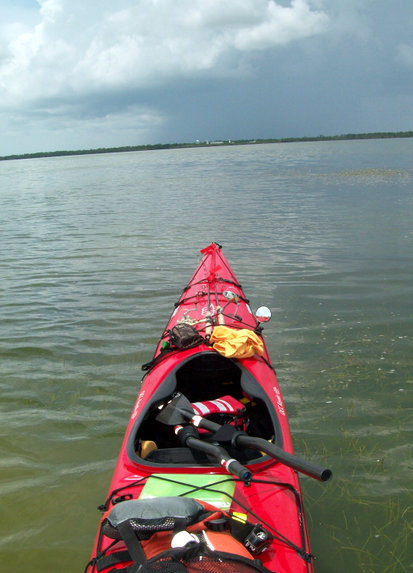 What?

This summer storm on the distant shore is a perfect example of (---add cuss words) This little cloud brought on lightning, rain and a serious change in wind directions. Welcome to Florida....

---
Manatees....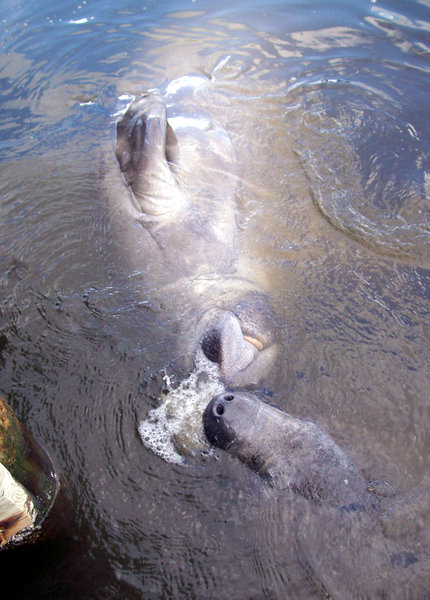 The "No Motor Zone" was set aside for Manatee habitat. And so these cute, large herbivores will flip your boat in an instant if you scare them. Often they will be sleeping as you paddle over them.....and "splash"--- that fast you and your lunch are wet. Beware startling the gentle giants of the Space Center!

---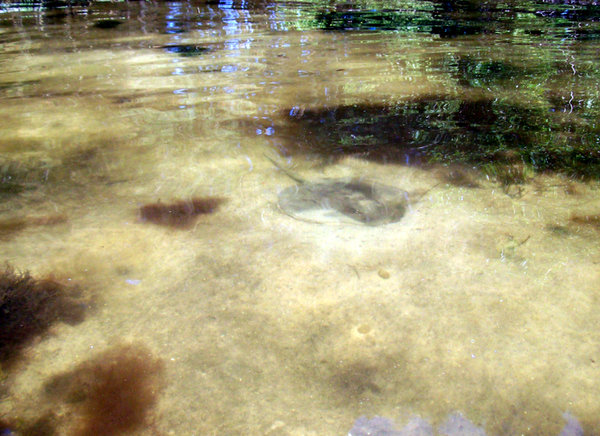 And ALWAYS shuffle your feet (the sting ray shuffle) when walking or wading in the Indian & Banana Rivers, Mosquito Lagoon and thier fresh water tributaries. The sting rays are there, they are scared of you and they will flee. Just shuffle your feet and they will scoot-You will never even see them. But step on one and the barbed stinger in their tail will ruin your vacation. In the photo a ray waits for mud minnows.
Let me throw out a note on this subject because this past summer when I told an out of state visitor to shuffle his feet because of the rays, the person did not want to get back in the water. If a thing is unknown, you cannot blame anyone for being nervous.
I have been wade fishing the shallow waters around the space center for nearly 40 years--never a problem with rays. In fact in the clear waters you will observe that 99% of all rays flee from you long before you are in stepping range (like any fish) However, I have observed that one percent that will sit in their sandy depression and I have nudge them away. And so because of that one percent that will not flee, you must always shuffle your feet in these waters.
Welcome to Florida

---
---

---
Turkeys of Kennedy Space Center
Other Space Coast Kayaking & SUP providers

---
Home  (home is my turkey page)


Do you need the perfect gift?
For pet lovers around the globe, "It's a Matter of Luck" is a collection of heart warming stories of horse rescues from the slaughterhouse. 
Available on Amazon: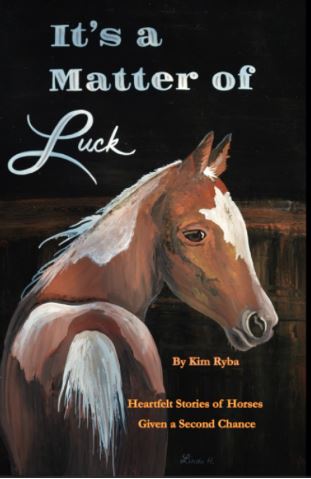 It's a Matter of Luck: Inspirational, Heartfelt Stories of Horses Given a Second Chance.
by Kim Ryba & Lina T. Lindgren
Warning: This book may cause your eyes to water -in a good way. (speaking from experience after reading it)
Please give Kim and Lina a heartfelt review on Amazon!
---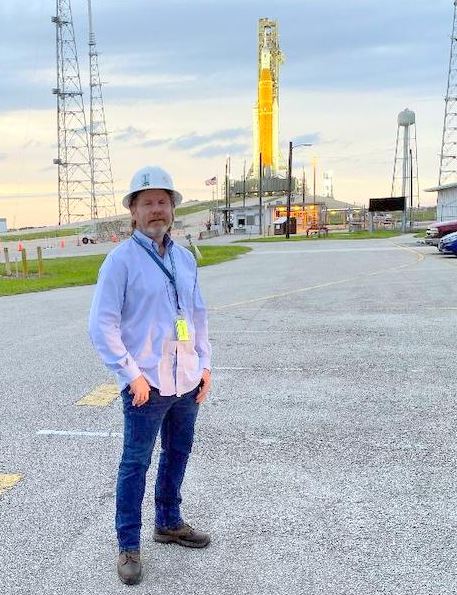 Author Bruce Ryba at Kennedy Space Center Launch Pad 39B & Artemis 1. "We are going to the Moon!"
Author's discussion (that's me) on You Tube of a book review on Amazon
My Facebook page Pet Turkeys You can always check in and say hello!

For the video versions of information, please check out my YouTube Channel (Turkeys, KSC, Flintknapping, dive stories etc.)
---
---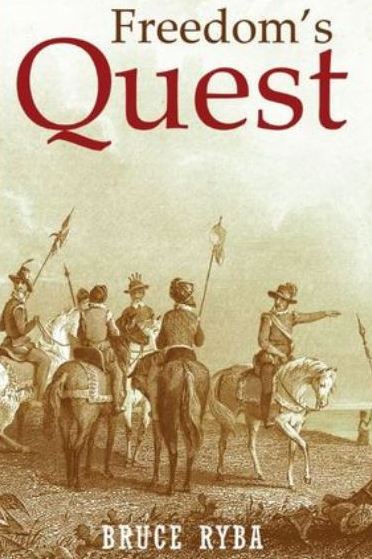 Book One of Florida History:
Freedoms Quest Struggle for the Northern Frontier and lost tales of old Florida
Fiction & language warning.
Available on Amazon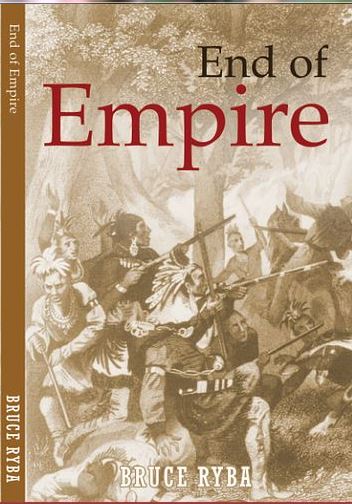 Book Two: Available on Amazon November 2023