Black Bellied Whistling Ducks

Our newest family members?
Wild  have invaded our yard! A flock of over one hundred very noisy, very boisterous ducks! They settle in the pine trees! Then very gently, very slowly land in our yard. When every they fight--they fight in the air about shoulder height off of the ground.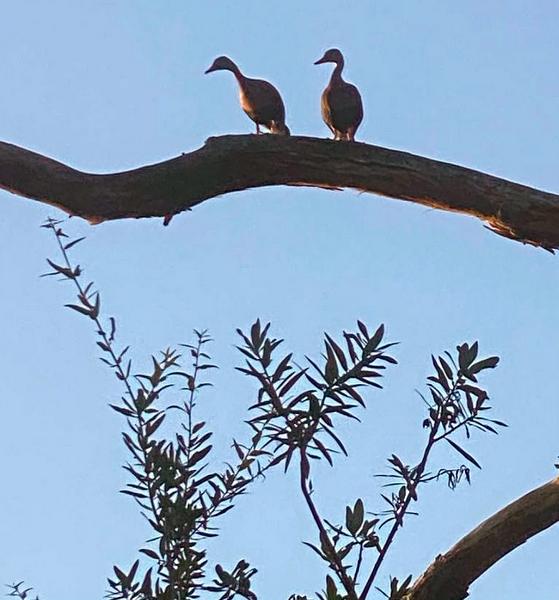 There back!

People visit and are stunned at the wild ducks. What the heck?
My neighbors children thought they were hearing giant bats! (Not the endangered Indiana Bat on my other web page) but duck-sized bats!

Flock of ducks after rain storm (on my You tube page)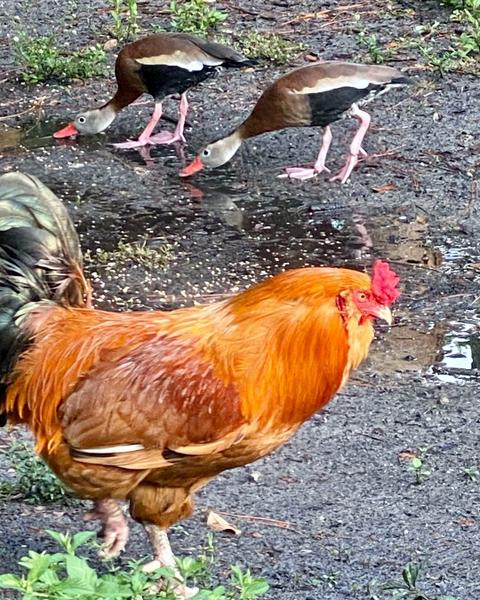 Dendrocygna autumnalis "Whistling tree duck" or "Mexican squealer"
Common in the south eastern United States, Central & South America.

---
These "Tree Ducks" as in the photo with the rescue rooster, have pink feet webbed feet, pink bills, white patches on their wings, only seen in flight and squeal-whistle pretty much non stop.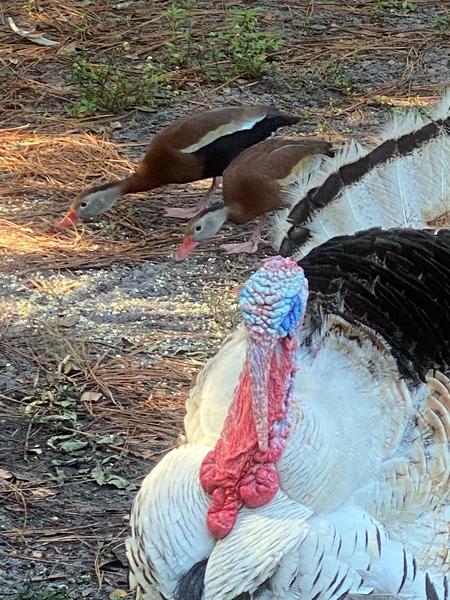 The internet says the tree ducks are very monogamous, unlike the turkey puffing up for the hens.

---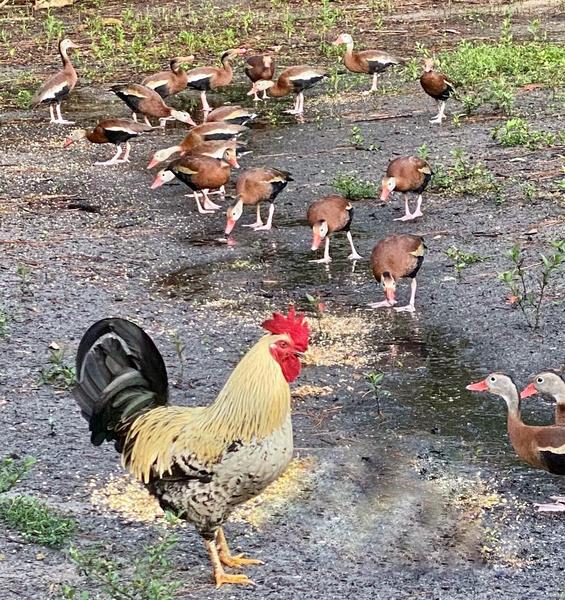 Interesting, the Cornell page says the Black belied tree ducks are growing in population, despite the fact that most wild animals are declining in population.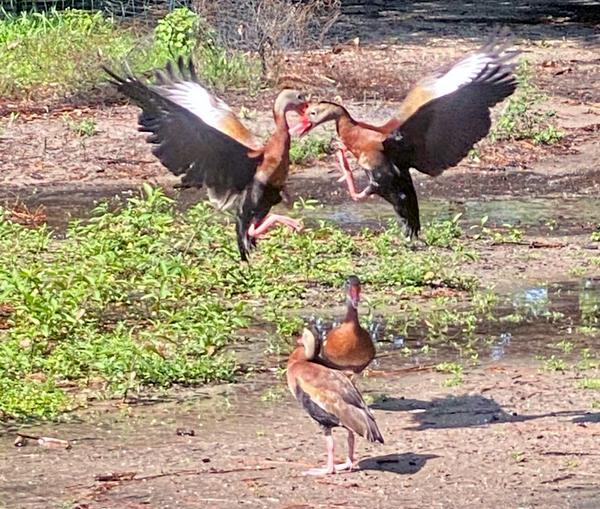 Duck fight.
Not like turkeys or roosters. The tree ducks jump up for brief aerial battles

---
For years, I have been hearing the Black bellied Whistling Ducks fly overhead squeaking like giant bats and always just after sunset.
I 'assumed' wrongly the whistlers were flying to a night perch. The internet corrected me. The ducks were leaving their perches to feed. They are nocturnal feeders except at our yard when they appear the hour before the sun sets.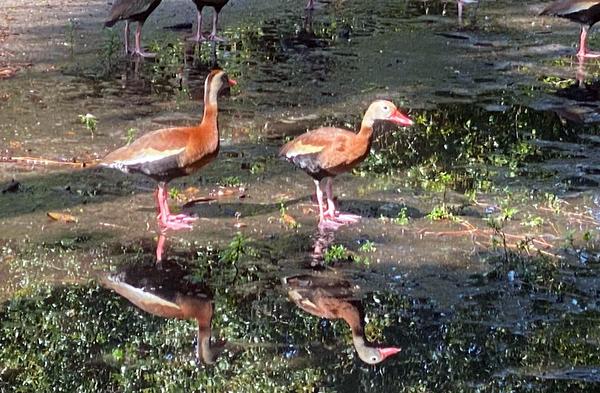 Late last summer, peak of hurricane season.....
Two Black bellied Whistling Ducks appeared in the yard late last summer. In a few weeks the number had grown to a dozen and then they all disappeared last autumn.
They returned around the beginning of May as a flock of over 100 birds.
They show very little fear of us, none for the turkeys and rooster. The internet states they are 'quite tame even wild'.
And their behavior is unlike the wild mallards on the St. Johns River or the winter teal at the space center-those wild ducks take flight in panic at the first sign of people.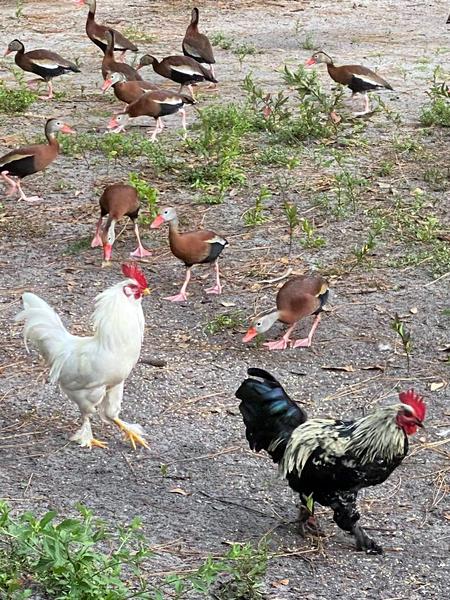 It is funny to watch the roosters around the ducks.
The roosters are just hoping or dreaming the ducks will show some sign, that they are really squeaky chicken hens.....Even some courtship wing dancing....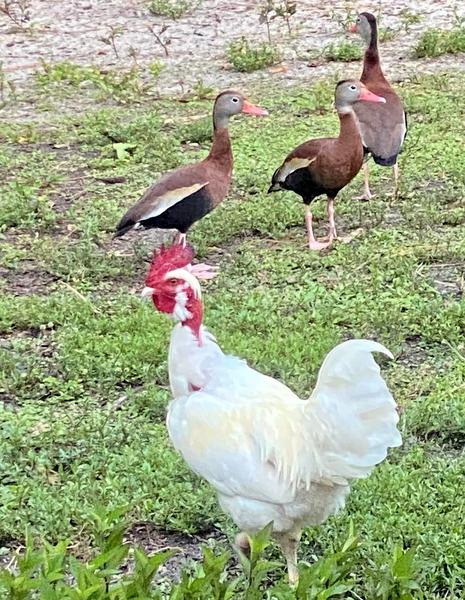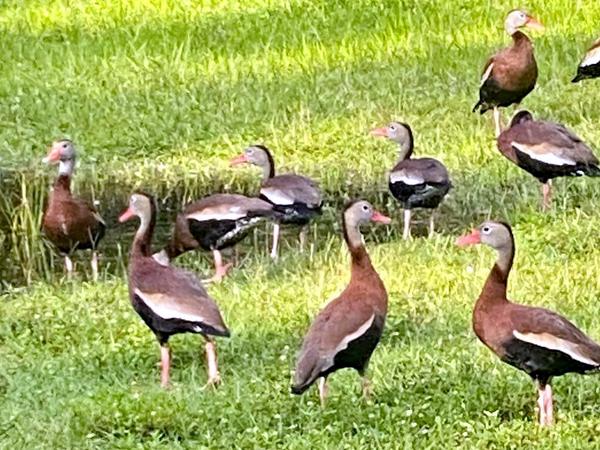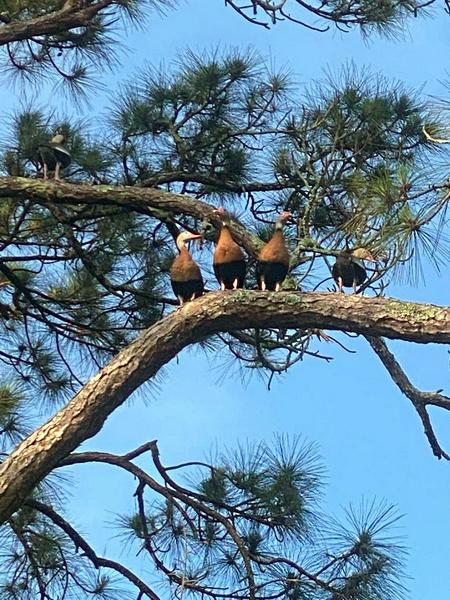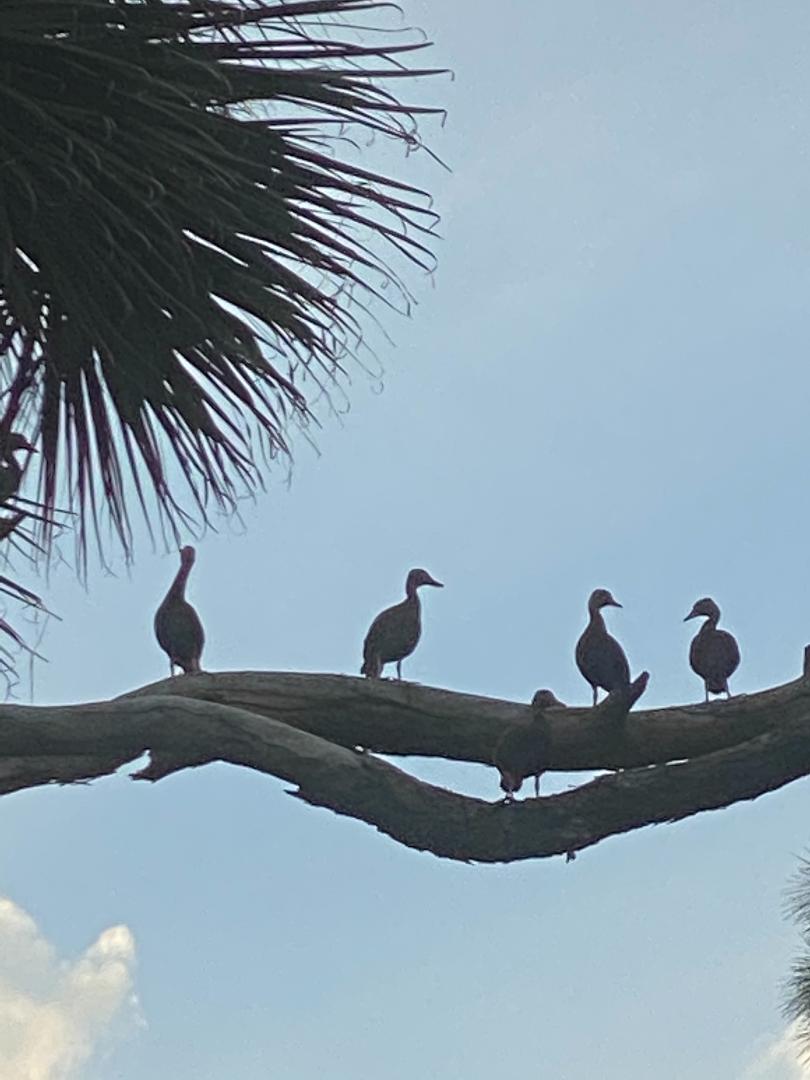 It is sort of crazy. 100 tree ducks

---
Next year 200 ducks? The internet says their population is growing and range expanding.
Thinking about making some nest boxes.....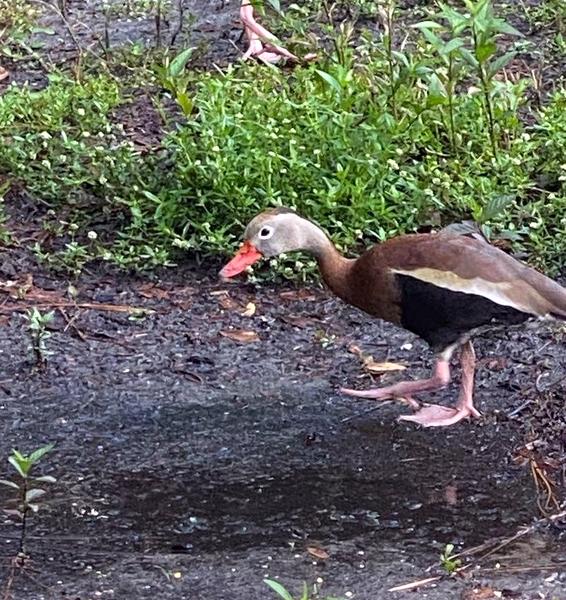 ---
---
Return Home from Black bellied Whistling Ducks page

---
---

Do you need the perfect gift?
For pet lovers around the globe, "It's a Matter of Luck" is a collection of heart warming stories of horse rescues from the slaughterhouse. 
Available on Amazon: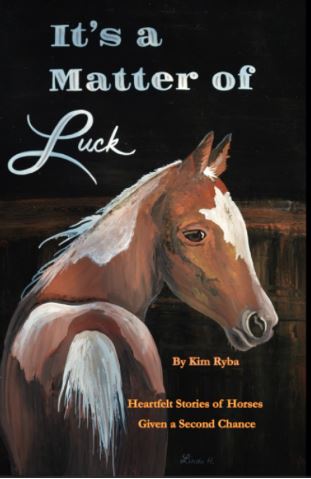 It's a Matter of Luck: Inspirational, Heartfelt Stories of Horses Given a Second Chance.
by Kim Ryba & Lina T. Lindgren
Warning: This book may cause your eyes to water -in a good way. (speaking from experience after reading it)
Please give Kim and Lina a heartfelt review on Amazon!
---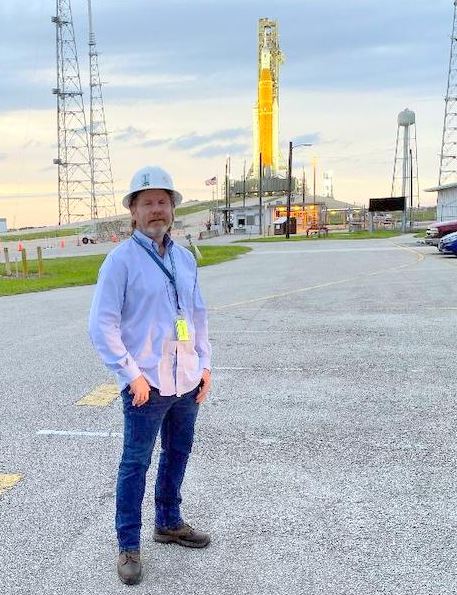 Author Bruce Ryba at Kennedy Space Center Launch Pad 39B & Artemis 1. "We are going to the Moon!"
Author's discussion (that's me) on You Tube of a book review on Amazon
My Facebook page Pet Turkeys You can always check in and say hello!

For the video versions of information, please check out my YouTube Channel (Turkeys, KSC, Flintknapping, dive stories etc.)
---
---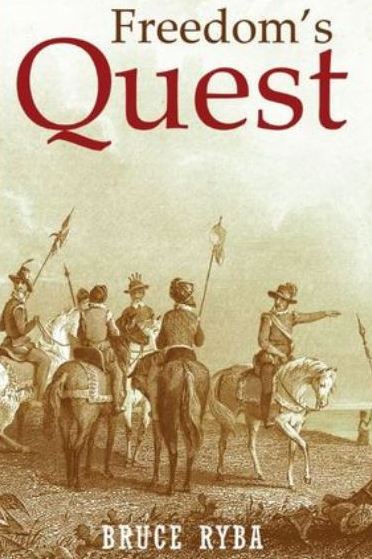 Book One of Florida History:
Freedoms Quest Struggle for the Northern Frontier and lost tales of old Florida
Fiction & language warning.
Available on Amazon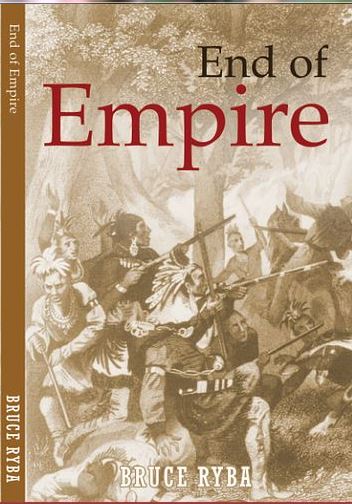 Book Two: Available on Amazon November 2023