Turkey Feathers
Sample of Heritage feathers picked from the ground, representing some of the colors of the Heritage Turkey.
-However "Porters Rare Heritage Turkeys" cannot be outdone in feather color explanation:
http://www.porterturkeys.com/phenotypesandgenotypes.htm
http://www.porterturkeys.com/feathercolorgenetics.htm   
---
---
Picked the ground this morning. I was impressed.

Another unique feather on the ground this morning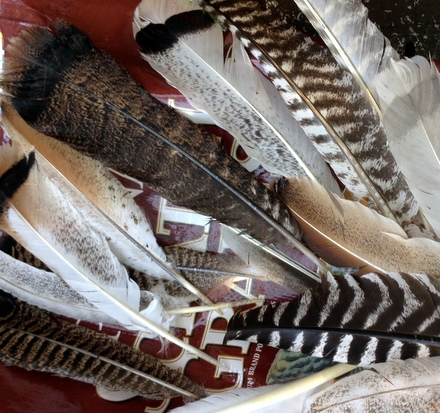 And they just keep dropping.....

Interesting study of wing shapes- analysis/comparison of species from across nine major avian clades & result of the study suggested wing shapes are influenced more from the "bird's ancestors wings" and less on flight style as long believed.

Mid-Cretaceous era, 100 million year old wing & feathers preserved in amber.

Turkey arrow fletching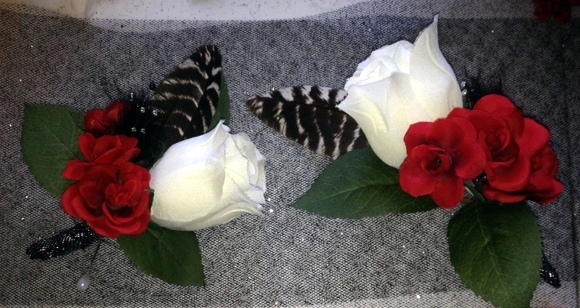 My wife made these for a wedding.

---
Florida, undoubtedly the bird capital of the United States. However…. I can't think of any feather  you can legally pick up except for a wild turkey feather… I guess a Starling feather is ok to touch.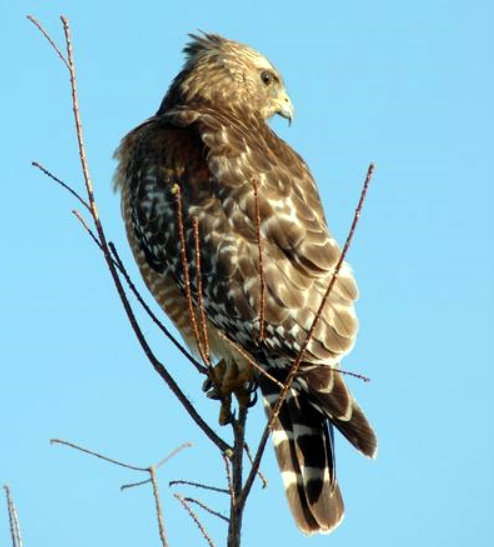 Big fines....no picking raptor or sea-bird feathers from the shoreline or oak hammock.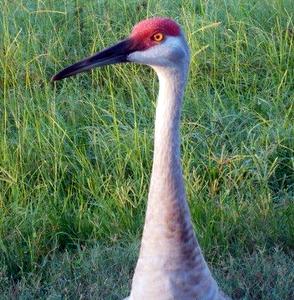 Sandhhill Crane (do not pick up the feathers)

---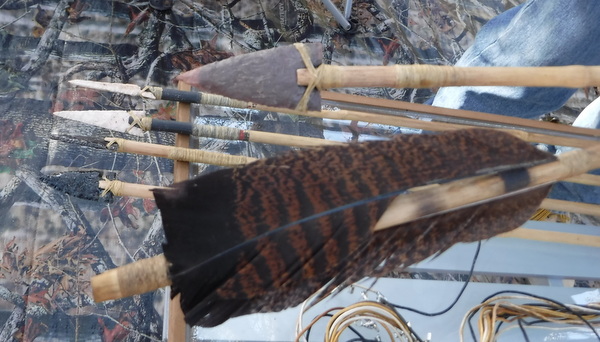 Wild turkey feather on ATATL-ATATL dart shaft

---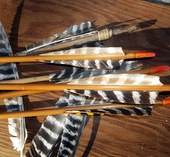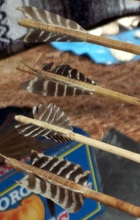 The reason I bought the original turkeys was to obtain some feathers for primitive arrow fletching.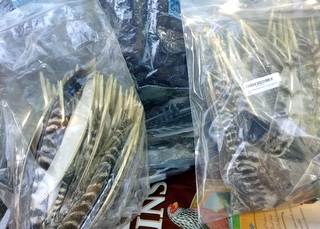 Well that goal was exceeded beyond wildest expectations ---Fletching feathers, quill feathers, art and historical re-enactment feathers. Most of the feathers just get tossed into the garden-compost cart; still we end up with bags of turkey feathers.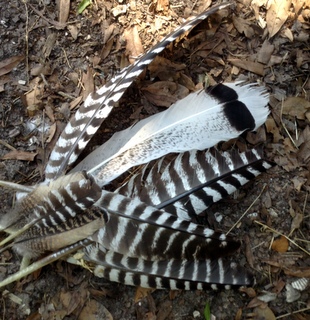 Turkey feathers were used by many native Americans for robes, blankets, rainwear and of course decoration and arrow fletching.
I use some of the best feathers for my hobby of reproduction arrows and flintknapping.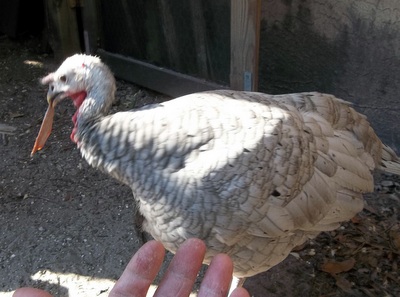 And of course the turkey is an extremely curious bird by nature. "So I have helpers"

---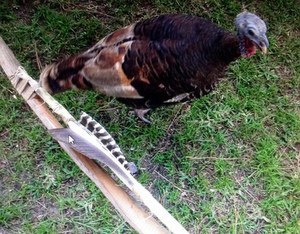 ATATL-ATATL (spear thrower) with turkey wing feather fletched palmetto wood dart

---
Newly hatched poult.
So I was reading that scientists speculate the first feathers developed for warmth.
Check out the artist redition of Anchiornis huxleyi

---
And this National Geographic artist version of an early Bird.

---
Contact us at: Clovis636@AOL.com